Stud Dogs
Teddy - Retired

3XGMPR Gavins Point Roughrider MH, QAA
Retired - no stud service
He's 78 lbs. of pure fun, he's intense, talented, plus he's one good-looking dog and super stylish. He's breath taking to watch and a joy to run, in any venue. Son of an FC/AFC and Teddy follows in his footsteps. He's hunted upland birds all over the Western US. Pheasant, sharptail, huns, chukars, valley quail, scaled quail and has even hunted and pointed Mearns quail in southern Arizona. He has also hunted ducks/geese all over the Northwest.
He loves to work either upland or waterfowl and is easy to train and these are the very same traits he has proven to pass to his offspring. To date he has many, many titled offspring, Certified Pointers, AKC Junior, Senoir and Master Hunters.

He offers solid pointing (for those hoping for pointers), great retrieving skills, hard hunting, great prey drive, good looks and a relaxed indoor nature.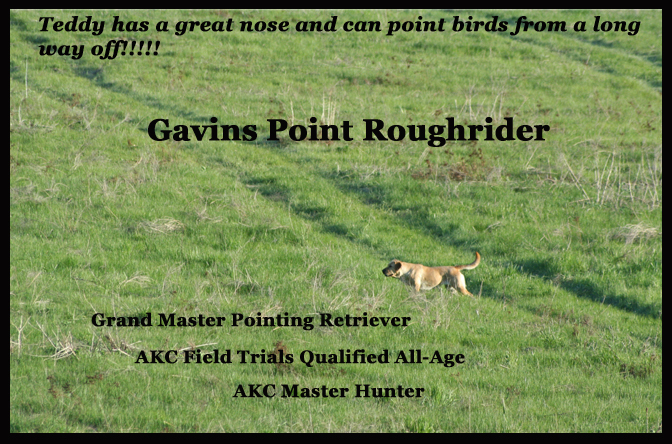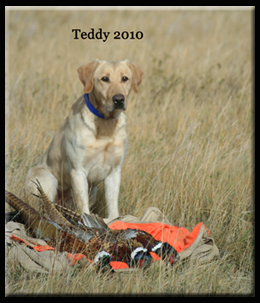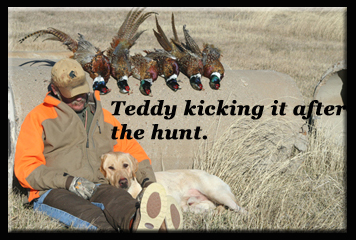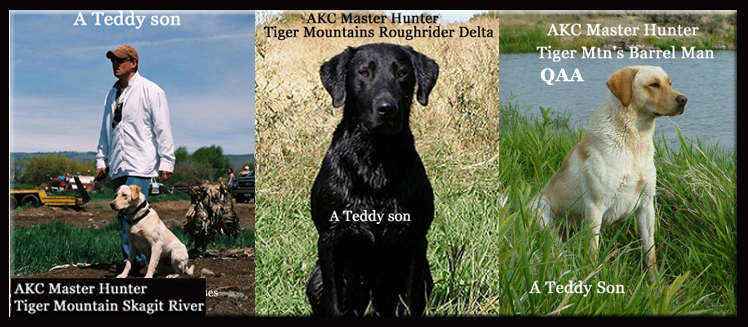 Teddy's Titled Offspring
Tiger Mtn's Broncos Barrel Man QAA, MH

Tiger Mountain Skagit River MH

Tiger Mountain's Roughrider Delta MH

CPR Tiger Mtn's High Intensity JH

CPR Tiger Mtn's Covergirl JH

CPR Tiger Mtn's If I Only Had A Gun JH

CPR Tiger Mountains Upland Treasure JH

CPR Tiger Mtn's Ruthless On Birds JH

CPR Tiger Mtn's Jazztime At the Copa JH

CPR Tiger Mtn's Boldie Locks

CPR Tiger MTN Gun Powder

CPR Tiger Mtn Josie

CPR Tiger Mtn Aspen

CPR Tiger Mtn's Texas Jet Pilot

Tiger Mtn. Maggie Mae JH

Tiger Mtn Lady Dy JH

Tiger Mountain's Miss Lynn JH

SHR Tiger Mountain Ruger JH

Tiger Mtn Sadie Lady JH
Pedigree
Pedigree for Teddy
Sire
FC/AFC Crow River's Cougar's Mad Max

Sire
FC/AFC Crow River's Malarky's Cougar

Sire FC/AFC Jubilashus T C Malarky

Dam Westwinds Katie

Dam
AFC Tahoe's Mally Malarky

Sire FC General Jubilashus

Dam Lil Tahoe Gal

Dam
Arrowhead's Hot Tamale JH

Sire
FC/AFC Hilltop's Hayseed

Sire FC/AFC Black Gold's Kates Rascal

Dam Candlewood's Divine MS M

Dam
Molly of Moon River JH

Sire FC/AFC Gunstock's Lethal Weapon

Dam Moon River's Ramblin Rose