A History Unmatched!!!
Yesterday, today and tomorrow..........
Our 38 year journey to excellence...........
In 1980 Vince Retacco of Issaquah Washington, an avid bird hunter, felt that it was time for a new addition to his home in the way of another Labrador to hunt upland birds and waterfowl. He acquired a yellow female Labrador puppy and living at the base of Tiger Mountain, he aptly chose the name Tiger Mountain Bullet for his new hunting companion. Little did he know that he was about to set out on a journey, an experience that would become a lifelong passion.
Opening day of 1980 season found Vince and Bullet hunting pheasants in Eastern Washington. They were working a creek bottom along a wheat farm when upon Bullet's first encounter with a pheasant, she locked up on a staunch point. Vince being experience in shooting uplands birds over a variety of gun dogs knew exactly what Bullet was doing but was amazed at her intense point.

Over the weekend Bullet continued to point bird after bird and Vince was elated
at her natural pointing instincts. He was able to shoot several pointed birds that weekend and had a great time watching Bullet work.
Bullet's natural pointing capabilities steadily improved throughout the hunting season with the right balance of traits; she was tough, had great stamina, plenty of nose, and had the ability to point and hold every species of game bird that she hunted. She excelled at working for the gun and never sacrificed her desire to please or her tremendous retrieving ability. She developed into a fine hunting Labrador, a pointing Labrador. Vince realized the advantage of hunting with a pointing Labrador. He had all the great attributes of America's most favorite and versatile dog, but then the added benefit of shooting pointed birds. With this in mind, he was going to be sure that this was not his last pointing Labrador. He began to search throughout the country in hopes of finding a male suitable to breed to Bullet when the time was right. He searched for a male like Bullet, who would work endlessly for birds and lock up on point. However, in the early eighties, this was easier said than done.
He talked to a lot of different people, even going so far as contacting the famous cowboy star, Roy Rogers who was rumored to have owned a pointing Lab, unfortunately like all of the other leads he acquired, this was not the case. Though Roy Rogers owned Labradors, none of them pointed birds.
The search was fruitless for years, the potential males would not truly point and most demonstrated a lack of good scenting capabilities. Then in the early fall of 1985 Vince learned of a dog in Idaho and he was able to line up a hunt with the owner and his male, where the dogs could be hunted side by side so that the potential paring could be evaluated.
Vince's exhausting search had come to an end. Smooth Point demonstrated the characteristics Vince needed in a stud dog, he had a great disposition, he pointed staunchly, demonstrated a good nose and had solid retrieving skills. Vince lined up the breeding and when Bullet came into season, Smooth Point was shipped to Vince and the breeding took place.

The breeding between Tiger MT Bullet and Rascal's Liquid Smooth Point produced 9 beautiful pups on March 9, 1986. The second generation of Tiger Mountain pups had been years in the making and Vince was anxious to begin evaluating the pups for natural point. The stud fee had been predetermined and the owner of Smooth Point and Vince were to split the litter with Vince picking his half first. So, at 5 weeks Vince began using a rod and wing to see if any of the pups would demonstrate natural point. Of the nine pups, only one consistently pointed during a three-week evaluation. It was a larger female and this one, undoubtedly, Vince kept and named Tiger MT Jackie. Vince gave his remaining 4 pups to hunting friends where two of the pups developed into natural pointers and the other two, though they were consistently hunted, never pointed.
Jackie's first day out in wild birds was memorable as Bullet's. Opening weekend found a 7-month-old Jackie pointing pheasants staunchly and retrieving to hand several limits of birds. Vince being a very avid wild bird hunter and now having the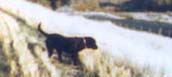 ability to hunt two natural pointing Labs, he wanted to continue exposing them to all types of upland birds and terrain. He hunted them on Pheasants, Chukars, Huns and Valley Quail in the state of Washington. The dogs were excelling at finding, staunchly pointing and retrieving everything that Vince hunted, so much so, that he started to travel to really put his dogs to the test. He traveled to Texas, and Oklahoma where the dogs pointed covey after covey of Bobwhite quail in vast terrain, also to Oregon, Idaho and Mexico where they were able to handle the running California Quail and even pointed the hard to find Mountain Quail. His trips also took him to Arizona for Gamble, Scaled and Mearns quail and it was on one of these tips that I had the pleasure of my first experience with a Labrador that could point birds.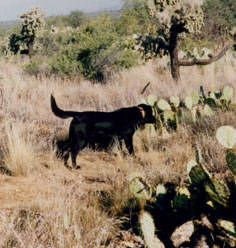 I turned to professionally training in 1982 after a couple years of competing in different types of field trails as an amateur. I was training and competing retrievers and pointers as I searched for my niche and being in Arizona, a state not known for its waterfowl, I found the pointing dog training really taking off. I thoroughly enjoyed working with Labradors, but I felt it necessary to put my energy into the development of my pointer training capabilities. I went on to win numerous NSTRA titles with over 50 Championship titles. I won several Regional Championships, and consistently placed the Nationals.
Our summers were spent outside of Flagstaff, Arizona where we leased property from the Coconino National Forest to be able to train year round. We were consistently training around 30 dogs a month in the summer, with a majority of them being family companions and hunters. In addition to our training and field trailing, we would do some selective wild bird guiding and this is where I was given my introduction to pointing Labradors.
In the late 1980's Vince contacted me concerning guiding him on the San Carlos Indian Reservation. I had come recommended to him through a mutual friend who had seen one of the television shows I had done on hunting wild birds on San Carlos. During our initial telephone conversation he mentioned he would like to bring a dog along, a Labrador that pointed birds. Though I didn't say it, my initial thought was "yeah right", needless to say I had my reservations. I was concerned that my dogs might be in store for working along side a flusher who might be flushing their pointed birds. I made sure to bring the caliber of dogs that would be able to handle working with a dog that couldn't or didn't point.
I was in line for a rude awakening when it came to my expectations of Vince's dog. Although I did bring along two dogs with numerous championship credentials to cover our need for shooting birds over quality points, I didn't need to. Jackie was finding, pointing, retrieving and handling herself just as well as they were. We spent three memorable days in the field with Jackie, and she hunted every day, demonstrating great endurance, stamina and a super nose.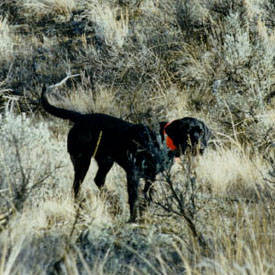 This was the last week of hunting season and Vince inquired if I would be interested in working with Jackie. I was excited. I could see she didn't need a lot of work, just a little polishing. I was intrigued at this opportunity to get to know this dog more so I jumped at the chance.
Jackie had a calm disposition but when working birds she was all business. The training program I developed for her was real basic. She already did almost everything on her own so I concentrated on her honoring other dog's points and training her to stop to a wild flush. After a couple of months of training I returned her to Vince with handling instructions and he took over. He needed to work on his own handling capabilities so he worked her periodically that summer. All summer long she found, pointed and retrieved 80 released birds without a mistake.
During that summer Vince really challenged her by varying her training schedule. He worked her when it was hot, cool, in the rain, all types of conditions and it didn't matter, she excelled at the challenge.
Vince hunted Jackie throughout the 1989 season with Bullet, working them side by side, shooting pointed birds over one while the other honored. I even traveled to Washington to enjoy Vince's company and watch his two pointing Labradors in action. We had a great time, we shot Pheasants, Chukars, Valley quail and Huns, all pointed by his two, first class hunting companions.
While we were together Vince discussed the fact that Bullet was now 9 years of age and he had started his search for a possible mate for Jackie. He knew he was in for the long haul and that finding an equal to breed to Jackie was going to be as tough as finding a mate for Bullet. He had traveled to South Dakota in the early fall and attended a certification event sponsored by the newly formed International Pointing Labrador Association. He brought Jackie along and she quickly became the standout, impressing all who saw her work. Larry Mueller, the hunting dog editor of Outdoor Life Magazine, was on hand to cover the event and saw Jackie work. In the April 1990 issue of Outdoor Life he made the following statements.
"Jackie is a good example. She points birds from as far as 25 to 30 yards from the bird…all Labs should have noses like Jackie!"
Although there were several potential stud dogs at this event, none matched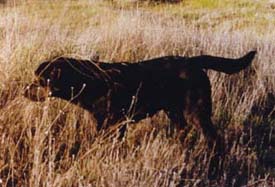 up to Vince's expectation. He again would not settle for anything less than Jackie's equal. He continued his search and followed up on leads but again to no avail. He finally got a solid lead on a possible mate and this one took him to the state of Oregon. Vince traveled to Eugene, Oregon to evaluate Amateur Field Champion Trieven Twist and Shout, M.H. Vince visited with the owners and watched Twist work a few planted birds. Vince even took a few photos of Twist on point and the photos are still used today by the owner's of Twist in their advertisements of him for stud. Vince was pleased with what he saw and Twist and Jackie were bred in the spring of 1990.
On June 26th, 1990 the 3rd generation was born. The breeding produced 5 sharp looking pups and again Vince stared his evaluation program. This time 2 of the 5 pups began pointing early with a 3rd also showing some natural point. Vince kept the 2 with the most promise and named them Tiger MT Luke and Tiger MT Whitefoot. He gave me the 3rd pup, which was a little package of dynamite and I named her Tiger Mountain Domino. The remaining two pups were placed in hunting homes. Vince hunted his pups, Luke and Whitefoot, along side their mother, Jackie, and grandmother, Bullet all throughout the 1990-1991 hunting season.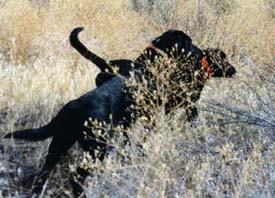 The pups were developing into the epitome of a pointing Labrador. They were pointing released quail at 3 months of age. At 5 months they were pointing wild birds along side their mother.
The summer of 1991 found Luke, Whitefoot and Domino going through the same program that their mother had and with the same success. They were already pointing birds naturally, retrieving well and had the same easygoing disposition as their mother and grandmother. Also, the training program that I had designed for Jackie worked with the same success for the pups. They were very biddable and eager to please.
I had spent a lot years training all types of hunting dogs, competing all different breeds of hunting dogs and I was starting to come to the realization that this was where my niche was. I needed to be gunning pointed birds over Labradors with natural point. They were great to be with, wonderful to train and during the program I was starting to see some serious advantages; the eagerness to please, the strong natural retrieve, and the most important, a great nose. The young dogs were pointing birds from 40-50 yards away. Hard to believe, but ask anyone who has gunned birds over them!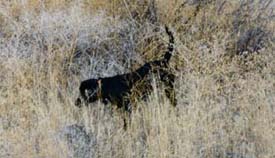 Although Vince's original plan was to keep either Whitefoot or Luke and place the other in the right hunting home. There was just no way to do this. Vince had put many years into the program, long before there were organizations to promote the pointing Labrador. Vince had fully developed them, I had trained them to the fullest and the dogs were tried and tested in extreme hunting conditions. He realized that both Luke and Whitefoot were exemplary representatives of the program he had worked so hard to develop, and he knew it would be some time before he would have another young dog to develop so he kept both.
In April of 1993 Tiger MT Bullet was laid to rest behind Vince's home by the creek here she loved to go. Bullet had a stellar career as a hunting dog and great friend to the Retacco family and myself. Our only regret is that we did not take the amount of photos that we do now. She was a tough, loving friend and we talk about her often. She is the true Matriarch of the Tiger Mounting Pointing Labrador family.
With the passing of Bullet our attention turned to the next generation of pointing Labradors and who we would use to perpetuate out line. I was now entrenched in Tiger Mountain's history and was involved with the development of our young dogs.
In 1990 I was invited to attend and assist in two certification tests held in the Midwest. At one of these functions I had the chance to meet Dave and his fantastic black male, Buddy Too Too. We became acquainted when Dave had heard of our successful program and wanted me to do some training with Buddy, so we made arrangements to meet at the function held in Minnesota. I discussed with Dave our need to only be involved with natural pointing Labradors and I had no desire to train a non-pointing Labrador to point. He assured me Buddy was a natural pointer and entered him in the certification trial to test his ability. Buddy passed with more natural point that I had personally seen outside of our lines. He demonstrated this ability over and over in two different days of the event. So, I agreed to work with Buddy and he took a plane trip home with me to begin his formal training.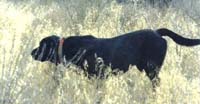 What a pleasure, Buddy was a solid dog, great in the field and around the house. He pointed birds with distance and great style. He was staunch and his eagerness to please was evident with every session. We had him steady to wing and shot in the upland field and working as a waterfowl dog he was steady and very attentive. We put him under a rigorous training schedule and he excelled at the pressure and the whole time he maintained his great pleasing disposition. So, when we turned to breeding out next generation, the question of what male had the most to bring to our program, it was easy, Buddy Too Too.
We decided to breed Buddy to Whitefoot in March of 1994 and the pairing produced 9 great looking pups. When the pups became 6 weeks of age we started our puppy evaluation program. Of the nine pups, eight of them demonstrated natural point early and we were very excited about our success. We then decided to do something different, something we hadn't done before, something we felt we needed to do, and something that should be done by anyone claiming to develop a line. We kept
and raised all nine pups. We felt it necessary to turn down the offers for the purchase of the pups because we needed to evaluate our line, not just the ones we would keep for ourselves, and not just through the puppy stage, but through the juvenile stage and into early adulthood. We had questions and we wanted the answers. Would the pup that didn't point develop into natural pointer? Would the pups that passed our evaluation continue to point? We had many questions and we felt we owned the future owner's of a Tiger Mountain puppy the answers.
We put all of the pups on birds early and often and even though their pointing instincts varied from outing to outing, overall the 8 pups that pointed early developed into natural pointing dogs. The pup that did not demonstrate early natural point, never did point. She was a nice dog, great retriever and very birdy but she would never lock up on point.
All of the pointing pups developed into what we pride ourselves in producing, easy going, good looking, natural pointing, natural retrieving hunters and family companions.
After a year and a half of working with and developing our nine pups we had some of the answers we were looking for and decided we needed to place some of the pups into the right homes. We placed the non-pointer into a home as a family companion. We placed the others into hunting homes where we could continue to monitor their development. We kept four of the pups. Of the pups selected, three were females and one was a male, all black. We gave them names of Tiger Mountain Namely Amie, Dan Tanner, Leaper, and Pete. They carry on our tradition of natural point, an eagerness to please, great retrieving skills and the ability to be very versatile.
Tiger MT Luke was really putting on a show in wild birds. He was pointing birds at unbelievable distances and making fantastic retrieves. We knew Jackie had a great nose but Luke was pointing birds twice as far. He's tough and his stamina is everlasting. We would load up and be gone hunting for 4-5 days and Luke would be down every minute of it. He just hunted and hunted. He pointed his birds way off and retrieved like any retriever should. We needed to see what type of pups he would produce.
Tiger MT Luke was bread to Tiger Mt's Namely Amie and the litter was as successful as any we had ever been involved with. We had now produced a litter where every pup demonstrated natural point. Some had a stronger instinct, but every pup would consistently lock up. We have found that this is not the norm but an exception. We were now moving into and area unmatched in the pointing Lab realm and we were ready to start seriously scrutinizing the pups. We kept one for ourselves, Tiger Mountain's Brookster. We were selective in the hunters we placed the remaining dogs with. We also made sure we placed them in different areas of the country to have them exposed to different upland fields and waterfowl hunting.
Expanding the Tiger Mountain Pointing Labrador family.
In 1996 I contacted Dave Brown's brother, Bob. We discussed the possibility of his young yellow male, Duke of South Shore, as a potential stud dog. Dave highly recommended Duke and his credentials were there. So, I flew to Minnesota and had a chance to see Duke work and we made arrangements for Bob to ship him to Arizona for some further scrutiny.
Upon Duke's arrival in Arizona, I began hunting quail, ducks and geese over him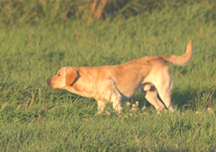 and he did everything I had hoped he would, and he did it with a lot of class. We were extremely pleased with his natural talents, good looks, easy to be with style, strong desire to retrieve and how staunch he was on point.
We needed a female to test his prepotency so I selected Amie, who herself was a proven producer, in order to get a good feel of Duke's progeny. We also bred him to Tiger Mountain's Dan Tanner. Both litters were extremely nice. We used our puppy evaluation program and passed 15 of the 18 pups. Of the pups that did not pass, one pup pointed periodically and the other 2 did not demonstrate natural point at all, so these three, the non-pointers, were placed with families as flushing/hunting companions.
In 1996 we set out to acquire pups outside our lines in order to bring in some bloodlines that were different than ours to truly enhance our program. Because no one to date runs an evaluation program like ours, we were forced to purchase a pup and then put him or her through our unique puppy evaluation program when they arrived. If they did not demonstrate early natural point, we found them a new home. If the pup we acquired demonstrated natural point, we then started their development and hunted them for further evaluation during bird season. They had to measure up all the way through training and into wild birds.
Today...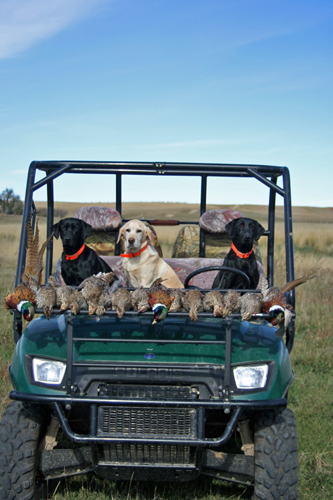 Since our move to Ellensburg Washington in 1997 we have expanded our breeding program and training program to offer the very best, all going back 30 years to Tiger MT Bullet, the Matriarch of our line.
If a solid family companion, which brings all the great attributes of the Labrador breed and natural point is your goal, a Tiger Mountain Pointing Labrador is hard to beat.
...and tomorrow
With our program moving into its 30th year, our location,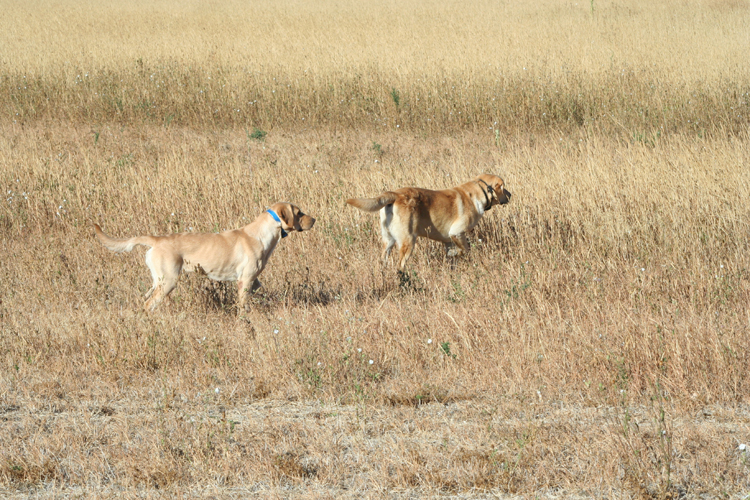 the strength of our successful history, the future is very exciting for us and our dogs. We will continue to challenge our dogs with many days spent in the field pursuing wild birds. We will continue to further develop our line to enhance all the great qualities they possess; their natural point, their natural retrieve, their great dispositions and eagerness to please along with their better than average nose. We will also continue our early evaluation program to identify which pups show natural point and will Only Place Natural Pointing Pups in hunting homes that want a Pointing Labrador.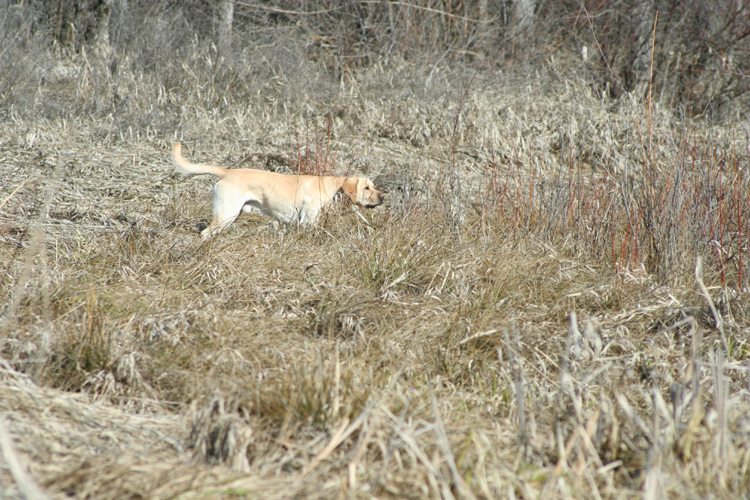 Call or email us to set up a visit and see for yourself how our program works. If a visit is not practicable, call us for references of people who have visited us and watched our pups (that passed our evaluation program) point birds.