A Nationally Renowned Puppy Program
Winter 2023 Puppies !!
All three colors!
Email for our Puppy Reservation form!!
What makes our puppy program different...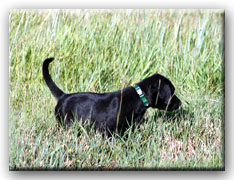 We appreciate your interest in our fine line of hunting dogs and we believe we breed some of the very best natural pointing Labradors available. For 38 years we have hunted over, and have only selected the finest naturally pointing Sires and Dams to perpetuate our line.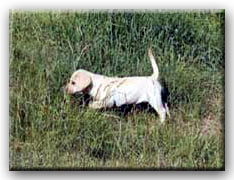 Our dogs have proven their ability to point and retrieve every species of North American game bird. Starting with Pheasants, Chukars, Hungarian Partridge, Ruff Grouse, Blue grouse, down to every species of quail. Bobwhites in Oklahoma and Texas. Scaled Quail in Eastern Arizona, Valley Quail in Eastern Washington and California, Mountain Quail in Mexico and Gamble Quail all over Arizona. They have even dominated the elusive Mearns Quail in Southern Arizona. They are also very relaxed and a pleasure to be with in the duck blinds.

Tiger Mountain Pointing Labradors offers pups to the discriminating hunter. We are looking for the family atmosphere where the pup can flourish as a member of the family and hunt for upland birds and waterfowl. We are serious about our dogs and serious about our pups.
"A pup must demonstrate natural point and a great amount of birdiness to be labeled as a Tiger Mountain Pointing Labrador."
Evaluation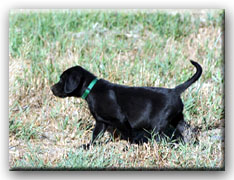 All our pups are work on birds daily from 6 - 7 weeks of age to be evaluated and they do not all point. Not all Labs posses natural point just because their parents point and we feel there is no other way to assure you of receiving the type of pup you want without putting them through an evaluation program. There are no other pointing lines available that go deeper or have better documentation of producing natural pointing pups, that we are aware of.
Through this evaluation program, we will designate pups to be placed representing our program as "natural pointers" and we will designate pups we'll be placing as "flushers". Some "flushers" do go on and point, but we'd rather underestimate a pup than place a pup as a "pointer" and then not have them develop as such (read our guarantee).
Price
The natural pointing pups are sold for $1500.00 and up at 7-8 weeks of age and you can reserve a pup with a deposit of $500.00. The deposits are non-refundable.

With your deposit you show you are serious about owning a Tiger Mountain Pointing Labrador pup and you will be assured of a place in the pick order. However, it will depend on the success of each of our puppy evaluation as to whether or not you will receive a pup in the estimated time frame.

We are serious about our puppy evaluation and we feel it truly gives you a chance to own the type of Labrador you desire, a pointing Labrador.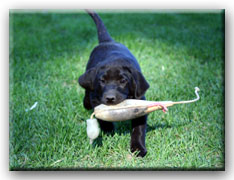 Our flushers are placed at $1500 and up and carry our same great guarantee, except the natural pointing portion.

We take the gamble out of receiving a pup with the desired natural talent of pointing birds and we are not going to ship a pup just because there is a home waiting for it. If it doesn't point, it will be placed in a home where pointing is not a part of the criteria. The pup must demonstrate natural point and a great amount of birdiness to be labeled as a Tiger Mountain Pointing Labrador.

If after we evaluate our pups and you are fortunate to be in line for one, your balance is due. This includes pups to be picked up here as well. We make no exceptions, we are serious about our pup's future and if there is a problem with pickup or shipping we will skip you and move someone else up in your place. Everyone knows well in advance of potential date of their pup being ready and there is no reason of delaying their introduction into the family.
Shipping
If we are shipping your pup, we'll try to find the best flight available. There will be an additional charge for airport delivery and health certificate of $200.00. Please include this in your balance due. An airline approved crate is also needed, please contact us for details. Your pup is generally sent COD for the shipping charges. The shipping charges will vary depending on your part of the country, generally anywhere from $150.00-250.00.
Health
Our pup's health is very important to us and we follow a program designed by a vet. We've placed several pups with vets who are amazed of the care, shots, etc. given to assure good health. The pups will be wormed at 5-7 weeks of age and receive their first "Puppy Shot" at 6 weeks of age. We supply a completed shot record with dates and vaccines used.

Our puppy program is an expensive program to manage, however, it is our desire to maintain the integrity of our line and in order to do this, there are a lot of bird costs and vet visits, but were serious about the pups that represent our name.
Guarantee
* We guarantee that all puppies will be socialized, wormed, have first set of shots and declaws removed. All pups are guaranteed up to 26 months of age against a genetic defect in hips/eyes and for performance up to 10 months of age.
Our pups are sold primarily as gun dogs, family companions and for active working purposes, not as breeding stock. Although we do not restrict breeding unless a pup is sold as a "pet quality only" and in which case, they are placed with "Limited" rights.
Our program is solid, successful and proven...

Some material could be outdated - please ask.